Description
Price depending on configuration
With the Piazoterra® pergola awning, you get an extremely flexible patio roof, which is equipped with an integrated pergola awning. Not only in the catering trade, but also in the private area you have so a noble shade, which becomes an absolute eye-catcher. Aesthetically pleasing, technically advanced and innovative is this awning for the terrace and garden. Due to the impregnated awning cloth, which is made of acrylic or screen fabrics, on the one hand you have the perfect place for shade and on the other hand you are also optimally protected from rain. If you use the Piazoterra® pergola awning on the terrace, the rooms behind it are also protected from overheating. Thus, you need less air conditioning and save money at the same time. The garden and terrace awning runs on two guide rails. They are stabilized by a transverse support profile and by two robust posts made of aluminum. Anchoring is done with ground sleeves to ensure stability. So that you do not have to use a lot of force, the pergola awning Piazoterra® is, of course, equipped with an electric motor. If you wish, you can get a remote control with it, so that you have the highest comfort. A summer in our latitudes can be wonderful. However, there is also the possibility that the actually warm time is rainy and cool. So that you can still use your outdoor area, you can of course also get radiant heaters for under the awning at Görres. Thus, you can use your outdoor area in any season. In addition, you can also find various sensors in the Görres online store. In addition to wind and rain monitors, you get sun sensors so your awning is protected even when you're away from home.
Description
Piazoterra® pergola awning is available in all imaginable sizes. Furthermore, we offer custom manufacturing, so that the awning is also absolutely accurate fit and they get the optimal
sun protection
. Up to a width of 600 cm and a projection of 500 cm, the Piazoterra® pergola awning is available.
HARMONIOUS DESIGN WITH INNOVATIVE TECHNOLOGY
directly from the manufacturer ex works
This high-quality awning is especially suitable for large terraces and garden seating areas. The shading system impresses above all with its innovative technology and elegant design. With the Piazoterra® pergola awning, you will always have a shady place for you and your guests and will be very well protected even in light rain. The flexible size of the awning makes this shade the perfect outdoor solution for restaurants to protect guests from almost any weather. Restaurants, pubs, hotels and cafes already use our Piazoterra® pergola awning to always offer your guests a place outside.
PERGOLA AWNING PIAZOTERRA® – ROBUST AND AESTHETIC
With a pergola awning you always have a very flexible shading system for garden and terrace. The garden awnings are easy to assemble, robust and offer very high stability due to the guide rails and the support posts. Combined with a specially impregnated awning cloth, which you can get optionally, you also always have a dry place even in the rain. The aluminum support posts are fixed with ground sleeves, so that the pergola awning Piazoterra® has a firm and secure stand. Optionally, you can also get a flower box in which the support posts can be mounted. This not only looks more beautiful, but also enhances your garden in a special way. To ensure stability, another support profile is fitted under the guide rails. The supports can be used variably and are also mounted by means of ground sleeves. Another plus is the stable and filigree aluminum construction, which can be mounted very easily via adjustable brackets. The standard electric drive can be expanded as desired with various control elements. This provides even greater comfort. Frahling sensors are also available in the Görres online store, which also provide a special kind of comfort. Those who travel a lot will no longer have an overheated living room with these sensors, as the Piazoterra® pergola awning with the sun sensor automatically extends when the sun shines. To protect the awning from damage, rain and wind guards are ideal. Because only in combination of these sensors you will have very long pleasure with your awning. The fabric of the awning is optimally tensioned in every extended position thanks to the innovative technology. In addition, the awning cloth offers a very high light fastness, is water repellent and provides sun protection . Furthermore, the fabric of the awning is dirt and stain resistant and has a self-cleaning effect. Thus, you need to spend very little time on maintenance. Due to the powder coating of the entire structure and the extremely high quality cloth, the entire pergola awning Piazoterra® is well protected from the effects of wind and weather. In addition, the Piazoterra® awning also scores with its maintenance-free technology. A plus point that you should not underestimate. You still have questions about the high quality and elegant pergola awning Piazoterra®? Then feel free to contact us and ask us your questions. We will be happy to advise you and help you find the optimal size for your sunshade.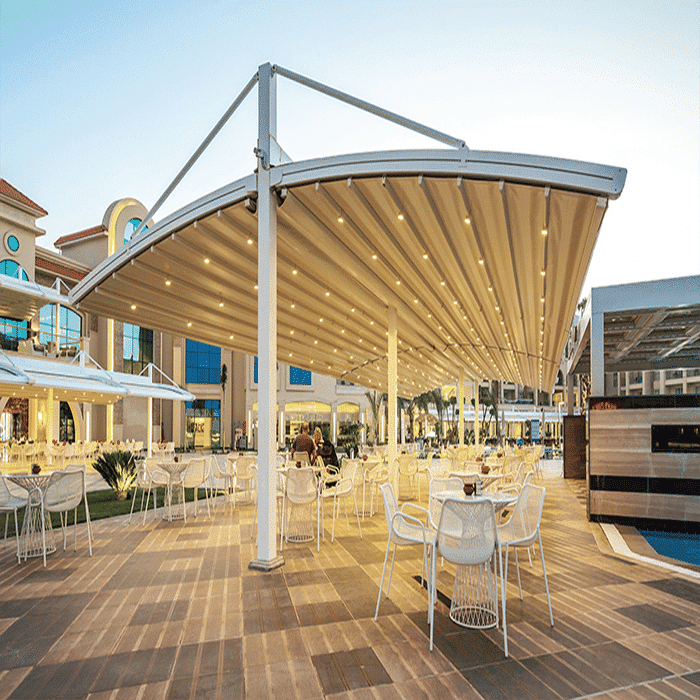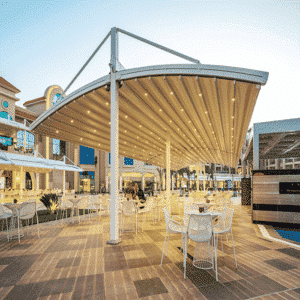 The system should have a slope of 15% for better water drainage.
different forms are possible. Contact us.