However, with a window, you do not want it to be shaded all day and even in the rain. For this reason, a movable awning is preferable to a canopy or similar fixed sun protection measures. The same applies, of course, with a terrace located directly on the house. A large patio door, of course, provides a large area for sunlight penetration. Therefore, it must be protected with a large awning. Articulated arm awnings are particularly suitable for this purpose.
These are designed with telescopes, scissor grids, or similar designs that extend far out. However, this also makes them quite heavy. This, in turn, means that their attachment to the facade is always problematic. Therefore, if you plan to buy such a folding arm awning, you should conduct an intensive comparison of products. Since these awnings are quite expensive, you should buy only quality products. A look at the top 11 products will save them from unpleasant surprises. Where the facade does not provide a stable foundation for the installation of a heavy awning, the only option is the installation of a self-supporting awning. It is placed in front of the facade by means of an appropriate frame.
Especially articulated arm awnings have many moving parts. Joints, shafts, axles, etc. require regular maintenance and care. At least once a year they need to be greased. The rack itself should be regularly protected from rust and painted. When caring for them should also give due attention to the fabric. Because it has to endure the most stress from rain and wind. Therefore, it must be regularly impregnated, because the impregnation by the manufacturer lasts only a short time. Such impregnation prevents dirt from the environment from settling in the fabric. Such dirt would provide points of attack for the water.
When choosing the appropriate model, you should also pay attention to what wind load you have. If there are more frequent high winds or gales, you should choose an electrically retractable awning design. This should be equipped with an anemometer that causes automatic retraction in case of danger. Otherwise, you may get the awning torn from the anchorage, possibly damage the facade, cause accidents, and so on.
Also, an appropriate design with a wind window in the fabric of the awning can provide additional protection in light winds. However, in all these cases, if you have to worry about a strong wind load, you should always consult the specialist. The installation of a folding arm awning should be left to a specialized company, because only then you can expect a long-term warranty.
Cheap and custom made folding arm awnings
Available in our store. 200 colors to choose from, radio motor, LED lighting. up to 700 cm width awnings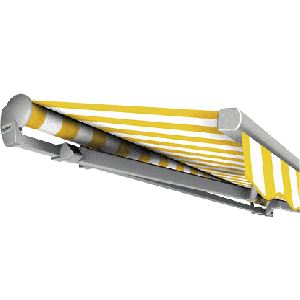 The folding arm awnings can be mounted on almost any surface, only the mounting materials may vary. Basically, they can be mounted on the wall, under the ceiling or on the rafters. For the latter, additional rafter brackets are required.
The most common type of awning is the classic folding arm awning. With folding arm awnings, 2, 3 or more folding arms move the awning fabric forward over the drop profile. This allows the awning fabric to be extended horizontally, usually with a slight slope, so that when it rains, the water can run off accordingly. The basic structure is usually made of aluminum and powder-coated steel. The arms are tensioned by steel cables or gas springs that push the awning fabric outward when extended and keep it taut. When the awning is retracted, the spring force must be counteracted. Therefore, rolling up the awning requires more force than extending it. Of course, an awning with a motor is advantageous here.
Today, modern awnings are equipped with motors. Cheap awnings are traditionally equipped with bevel gear or worm gear.
Cassette awning is the best among the articulated arm awnings with full equipment now at MARKISENSHOP : awning with motor, emergency crank and LED – full equipment for a small price: